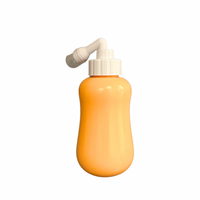 Description
Postpartum Upside Down Peri Bottle For Postnatal Care.
Your perineum is likely to be very sensitive, swollen and tender post birth. Our portable Peri Spritz bottle is an essential item for your trips to the toilet the first few days and even weeks after having a baby. It allows you to gently wash sensitive areas and soothe with cool water.
Features
Gently washes your perinium without the use of tissue paper which can cause additional pain and irritation

Prevents the need to apply pressure to your perinium when wiping which is particularly valuable if youve had a tear or stitches

Designed to be used upside down for those difficult to reach sensitive areas

Collapsible /extendable neck with travel bag which also provides extra discretion

Soft touch bottle designed for minimal pressure when squeezing

Hospital birth bag essential item to pack

Portable peri spritz holds 360mls of warm water. For soothing affect, add Mummy's Organics perineal Sprits to your Post birth Peri Spritz bottle and keep cool in the fridge
Delivery
FREE Standard delivery on all orders over £30.
Please allow 2-4 business days for delivery.
Express delivery for £5.95.
Orders placed after 12pm will be processed the next business day.
Global delivery for £15 (Standard and Express delivery are only available for within the UK).
Made by midwives for mums
'All our midwife developed products, are organic, natural, safe,  environmentally conscious, and highly effective.'
Our team believe that results can be achieved with the power of nature alone.
We do not use fillers in any of our products, meaning that almost every ingredient provides a benefit. 
this product includes: