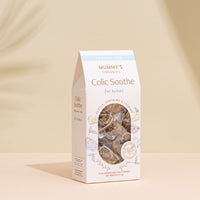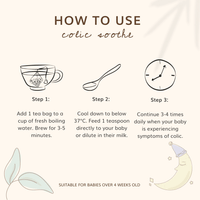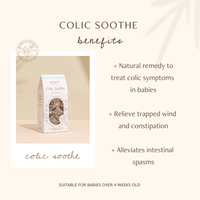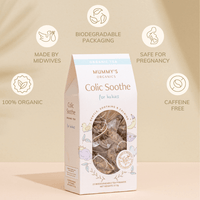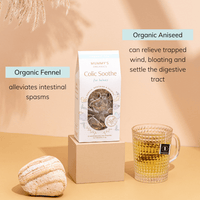 Colic Soothe (Organic Tea For Babies)
15 Biodegradable Tea Pyramids
Description
Created by midwives, this gentle blend of herbs can settle your baby's tummy troubles. Our tea is a winning combination to relieve common colic symptoms in babies. Can also be enjoyed by the whole family. Includes 15 biodegradable tea pyramids. 
Benefits
+ Natural remedy to treat colic symptoms in babies
+ Relieve trapped wind and constipation
+ Alleviates intestinal spasms
DIRECTIONS
1 tea bag per cup to fresh hot boiling water.
Brew for 3-5 minutes.
Cool down to below 37°C.
Feed 1 teaspoon directly to your baby or dilute in their milk.
Continue 3-4 times daily when your baby is experiencing symptoms of colic.

*Suitable for babies over three weeks old.
*Please consult your midwife before using this product.
Midwife Tip
Feed 1 teaspoon, 3-4 times per day directly to your baby or dilute in their formula or breast milk to relieve symptoms of colic'
- Odette
Ingredients
Organic Aniseed & Organic Fennel.
Delivery
FREE Standard Delivery on all orders over £30.
Standard Delivery (2-4 working days) for £1.95.
Express Delivery (1-2 working days) for £2.95.
Orders placed after 10am will be processed the next business day.
Global delivery for £15 (Standard and Express Delivery are only available within the UK).

Made by midwives for mums
'All our midwife developed products, are organic, natural, safe,  environmentally conscious, and highly effective.'
Our team believe that results can be achieved with the power of nature alone.
We do not use fillers in any of our products, meaning that almost every ingredient provides a benefit.