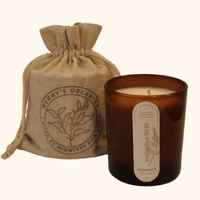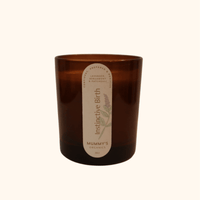 36cl
Description
This is the perfect Baby shower, New parents, or congratulations for
 parents to be present! 
Mummy's Organics pregnancy-safe candle is made using a non-toxic, safe coconut wax blend and high-grade organic essential oils.
This Luxury and stylish glass amber jar features a pastel label with a gentle illustration that hints at the essential oils inside.
See below for burn times, sizes, and candle scent details. You can also add a handwritten personalised message 
at checkout
.
Prepare For labour
Our Instinctive Birth Candle was made specifically to help you release stress and anxiety towards your birth and to leave you feeling mentally prepared.
This candle will leave you feeling confident, prepared & positive towards your birth.
Scent
Lavender, Bergamot & Patchouli.
Delivery
FREE Standard Delivery on all orders over £30.
Standard Delivery for £2.95.
Express Delivery for £5.95.
Orders placed after 10am will be processed the next business day.
Global delivery for £15 (Standard and Express Delivery are only available within the UK).




Made by midwives for mums
'All our midwife developed products are organic, natural, safe,  environmentally conscious, and highly effective.'
Our team believe that results can be achieved with the power of nature alone.
We do not use fillers in any of our products, meaning that almost every ingredient provides a benefit. 
this product includes:
Castor oil
Castor oil is rich in fatty acids, which have anti-inflammatory properties and promotes hydration, making it naturally healing and moisturising. 
Rosehip
Rosehip oil contains anti-inflammatory properties which work as natural pain relief and promotes collagen remodelling which is particularly useful for preventing dry skin and healing wounds.
Frankincense
Frankincense promotes healing and reduces dryness, so can help to reduce the size as well as thickness of scars and stretch marks.