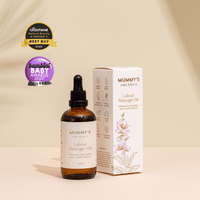 Labour Massage Oil (Organic)
100ml
Description
Promote relaxation, reduce fear and anxiety during labour with this natural massage oil. Aromatherapy massage stimulates the body through the release of endorphins which lift your mood and are natural pain relief. Frankincense, lavender and geranium are calming and relaxing oils, whilst clary sage helps to regulate labour.
benefits
+ Natural pain relief
+ Reduces fear and anxiety
+ Increases the chances of a natural birth
Directions
Use during early labour to aid sleep and relaxation, which helps your birth to progress more quickly. This oil can be applied directly to your skin by massaging into your tummy, back and legs from 37 weeks gestation.
* Do not use before 37 weeks
of pregnancy
* Do not use during a water birth
* For external use only
*Keep out the reach of children
Midwife tip
'Try adding some oil to a cloth, which you can use to inhale during a contraction.'
- Odette
Ingredients
Prunus amygdalus dulcis oil (Sweet almond oil), Salvia sclarea oil (Clary Sage oil), Pelargonium graveolens oil (Geranium oil), Citrus bergamia peel oil expressed (Bergamont oil), Lavandula angustifolia oil (Lavender oil), Boswellia neglecta resin oil (Frankincense oil), Citronellol, Geraniol, Limonene, Linalol, Citral
Delivery
FREE Standard Delivery on all orders over £30.
Standard Delivery (2-4 working days) for £1.95.
Express Delivery (1-2 working days) for £2.95.
Orders placed after 10am will be processed the next business day.
Global delivery for £15 (Standard and Express Delivery are only available within the UK).

Made by midwives for mums
'All our midwife developed products are organic, natural, safe,  environmentally conscious, and highly effective.'
Our team believe that results can be achieved with the power of nature alone.
We do not use fillers in any of our products, meaning that almost every ingredient provides a benefit. 
this product includes:
Almond Oil
Almond oil is rich in nutritional value and intensely moisturising.
Bergamot
Bergamot is a great oil used for aiding relaxation during labour as it can have a calming effect and help reduce pain.
Clary Sage
Clary sage can help induce labour by stimulating contractions and reducing fear, tension, or emotional stress about your birth.