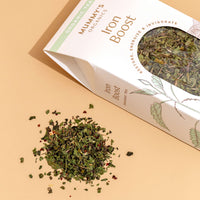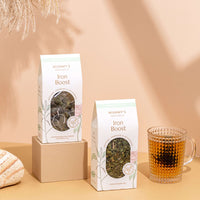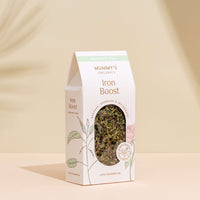 Description
Organic Nettle Leaf tea with added Organic Rosehip. Created by midwives, this tasty blend helps to increase your iron levels during pregnancy, which usually drop as your blood volume increases. Rosehip assists with the absorption of iron in the nettle leaf. If you are seeking to boost your iron levels naturally, this is your new favourite tea!
Choose between 75g of loose tea or 15 biodegradable tea pyramids.
Benefits
+ Naturally boosts iron levels without the use of synthetic tablets
+ Rosehip helps your body absorb iron from the nettle leaf
+  Nettle is also high in vitamins A, C, K, potassium, and calcium
DIRECTIONS
Add 1 teaspoonful or 1 tea bag per cup to fresh hot boiling water.
Brew for 5-10 minutes.
Enjoy hot or cold (topped up with iced water).
Our midwives recommend drinking 4-6 cups daily to boost iron levels when suffering from Anemia.
Midwife Tip
'Drink 4-6 cups daily to boost iron levels during your second trimester of pregnancy and post-birth while breastfeeding.'
- Odette
Ingredients
Organic Rosehip & Organic Nettle Leaf.
Delivery
FREE Standard Delivery on all orders over £30.
Standard Delivery (2-4 working days) for £1.95.
Express Delivery (1-2 working days) for £2.95.
Orders placed after 10am will be processed the next business day.
Global delivery for £15 (Standard and Express Delivery are only available within the UK).

Made by midwives for mums
'All our midwife developed products, are organic, natural, safe,  environmentally conscious, and highly effective.'
Our team believe that results can be achieved with the power of nature alone.
We do not use fillers in any of our products, meaning that almost every ingredient provides a benefit.