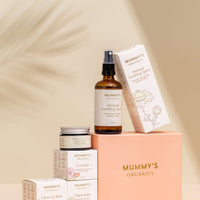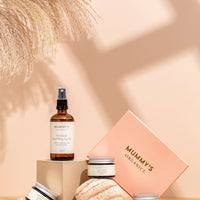 Description
Includes our essential products for any new Mum! 


Perineal Healing Spritz for post-birth recovery.
Nipple Balm for sore, dry nipples whilst breastfeeding. 
Lip Balm to get you feeling yourself again. 
Scar Balm for C-Section recovery and stretch marks. 
Perineal Healing Spritz (100ml)
This soothing spritz provides instant relief from swelling, pain, bruising, or inflammation. Infused with witch hazel and aloe vera to help soothe your perineum from post-birth discomfort and help aid the body's healing process. Lavender and chamomile have natural anti-inflammatory and antibacterial properties, which are also helpful in healing and protecting.
Benefits:
+ Provides instant cooling and soothing relief
+ Helps to protect against infection
+ Aids natural healing
Directions: Spray directly onto the perineum for instant relief post-birth. This spritz is particularly useful for soothing, stinging and discomfort before and after using the toilet.
We recommend storing in the fridge and using when cold to provide extra relief. Use as often as required.
* Do not apply on open wounds
* Consult your midwife or doctor before using on tears or stitches
* Rise off immediately and discontinue use if you experience any pain or burning
* External use only
*Keep out the reach of children
Nipple Balm (30ml)
This natural Lanolin-free balm moisturises skin and soothes cracked, sore nipples while breastfeeding. Coconut oil and shea butter are deeply moisturising, providing your skin with a natural protective barrier. Castor oil is anti-inflammatory and promotes skin cell renewal.
Benefits:
+ Moisturises restores and soothes sore and dry nipples
+ Provides skin with a natural protective barrier
+ Helps improve skin elasticity and avoids cracks
Directions: Soften balm between fingers, and apply to nipples following each breastfeed to help prevent sore and cracked nipples. Once absorbed, Mummy's Organics Nipple Balm is safe to leave on before the next feed. Re-apply as often as needed.
* For external use only
*Keep out of reach of children
Scar Balm (30ml)
This winning blend of ingredients helps fade the appearance of long-term scarring, allowing them to appear more flattered and less visible over time. It contains nourishing shea butter and coconut oil which are healers. While frankincense has remarkable skin rejuvenating properties, and mandarin stimulates the growth of new skin cells, a winning blend to fade the appearance of scars. 
Benefits:
+ Scar massage promotes collagen remodelling
+ Helps to reduce dryness
+ Provides flexibility and moisture to skin
Directions: Apply to your C-section wound or scar, and gently massage the area for 5 minutes. This balm is safe to apply directly to your C-Section wound after it has fully healed around 6 weeks postpartum. Massaging 2-3 times daily helps to break down scar tissue and improve elasticity.
*  Do not apply to fresh scars
* Consult your midwife or doctor before using during pregnancy
* Keep out the reach of children
*  For external use only
Citrus Lip Balm (30ml)
This citrus balm works to nourish your skin, leaving you with soft and supple feeling lips. It contains shea butter and castor oil that work to lock in moisture. Rosehip moisturises, hydrates and helps to protect against sun damage. Mandarin stimulates the repair of dry, damaged skin.
Benefits:
+ Moisturise and nourishes lips
+ Helps to reduce dryness
+ Provides lips with a natural moisture barrier
Directions: Apply a generous layer to your lips, or anywhere else you need a little extra moisture. Apply as often as desired.
* For External use only
* Keep out of reach of children
Delivery
FREE Standard delivery on all orders over £30.
Please allow 2-4 business days for delivery.
Express delivery for £5.95.
Orders placed after 12pm will be processed the next business day.
Global delivery for £15 (Standard and Express delivery are only available for within the UK).
Made by midwives for mums
'All our midwife developed products, are organic, natural, safe,  environmentally conscious, and highly effective.'
Our team believe that results can be achieved with the power of nature alone.
We do not use fillers in any of our products, meaning that almost every ingredient provides a benefit. 
this product includes: